China, Russia resist US push for stiffer Iran nuclear sanctions (video)
(Read article summary)
US lawmakers have pushed for crippling sanctions on Iran's nuclear program, citing this week's report as reason for urgent action. But veto-wielding Russia and China are likely to block new UN sanctions.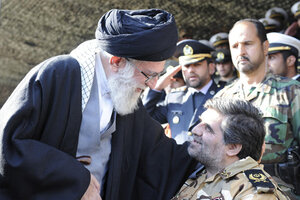 Leader.ir/Handout/Reuters
• A daily summary of global reports on security issues.
In the wake of this week's report on Iran nuclear weapons activity, Britain and France have joined calls from US lawmakers to step-up sanctions against the Islamic Republic. But the prospects of collective international action – which has the potential to be far more devastating on Iran's economy – are almost certain to be thwarted by Russia and China.
US lawmakers have pointed to the latest International Atomic Energy Association (IAEA) report on Iran, which found "credible" evidence that Iran nuclear weapons work may have continued until as recently as 2009, as urgent cause for stepping up sanctions against Iran. Existing sanctions and Western condemnation have not done enough to quell Iran's nuclear ambitions, they argue.
But while Congress may impose new unilateral sanctions, the US will be hard-pressed to bring about any collective international action on Iran given opposition from Russia and China, two of the five veto-wielding members of the United Nations Security Council.
"We always believe that dialogue and cooperation is the right way to solve the Iranian nuclear issue. Sanctions cannot fundamentally solve the issue," said Chinese Foreign Ministry Spokesman Hong Lei today, according to Reuters.
In a statement Wednesday, the Russian foreign ministry called the IAEA report biased, according to Russian news outlet RIA Novosti, and cast further sanctions as an "unacceptable" attempt to meddle with Iran's domestic affairs.
The Guardian reports that Mr. Hong's Russian counterpart, Deputy Foreign Minister Gennady Gatilov, said Wednesday, "Any additional sanctions against Iran will be seen in the international community as an instrument for regime change in Tehran. That approach is unacceptable to us, and the Russian side does not intend to consider such proposals."
---