Yemen's Saleh promises to step down; skeptical West mulls sanctions
(Read article summary)
In an interview with French TV, Yemen's President Saleh promised to step down – again. Western nations may try sanctions to compel his departure as conditions in Yemen worsen.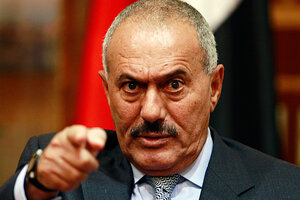 Khaled Abdullah/Reuters/File
• A daily summary of global reports on security issues.
Yemen's President Ali Abdullah Saleh said in a recorded interview aired Monday night that he will leave office within 90 days of an agreement by the regional economic bloc the Gulf Cooperation Council (GCC).
In the France24 interview, Mr. Saleh said that when the structure of a power transfer is settled and elections happen, he would leave, CNN reports. "I know the difficulties, the negatives, the positives, I will not hang onto power," said Yemen's president of 33 years. "Whoever hangs onto power I think is crazy."
However, there is deep skepticism in the West that Saleh is sincere, since he has reneged on similar promises repeatedly since Yemen's antigovernment uprising began in February. The United States, United Nations, and other international powers have urged him to step down for months to no avail. Now, with security and humanitarian conditions dramatically worse, Western leaders are reportedly considering sanctions against him and his relatives, a number of whom have powerful positions in his regime.
The UN envoy to Yemen, Jamal Benomar, arrived in Sanaa this week to push for a transfer of power according to the terms laid out in a US-backed plan crafted by the GCC, the Associated Press reports.
In the chaotic months since the uprising began, Yemen's security has collapsed. Pacified tribes and local and Al Qaeda-linked militants have taken up arms throughout the country, the Associated Press reports. Militants have taken over sections of cities in the south, currently holding swathes of the city of Zinjibar, and antigovernment tribesmen have taken up positions in the northern part of the country.
---