A turning point for Syria protests?
(Read article summary)
Syrian Army defectors launched a fresh assault on a pro-government group yesterday. Some say their concentrated military action could be the turning point for the Syrian protest movement.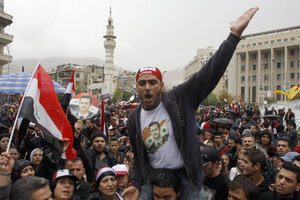 Muzaffar Salman/AP
• A daily summary of global reports on security issues.
Syrian Army defectors used rocket-propelled grenades to attack a pro-government youth group office in northwestern Syria yesterday, the latest in a string of bold offensives against the Syrian government, army, and security forces.
The day before the Free Syrian Army, as the defectors have dubbed themselves, attacked an intelligence base outside Damascus. Andrew Tabler of the Washington Institute for Near East Policy told CNN that the strike on the intelligence base "reflects the growing sophistication of the Free Syrian Army and 'opens up a new era of the conflict'."
There is a growing consensus that Syria is moving toward a civil war, if it isn't already there. On Thursday, Russian Foreign Minister Sergei Lavrov warned that the current situation is "very much like a civil war." Today, Turkish Foreign Minister Ahmet Davutoglu joined the chorus. "There is a risk of [the confrontations] transforming into civil war," he said, according to Radio Free Europe.
---