Iran's keeping the US drone. But can they figure it out? (VIDEO)
(Read article summary)
Many commentators argue that the RQ-170 'Beast of Kandahar' drone is too advanced for Iran to reverse-engineer.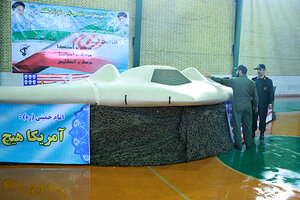 Sepahnews/AP
Iran appears to have declined the White House's formal request to return the surveillance drone it recently captured. But even if Iran retains the high-tech drone, experts are dubious about how much Iran can learn from it.
The semi-official Iran Students' News Agency reported today that Iran considers the RQ-170 "Beast of Kandahar" drone "Iran's property," according to Iranian Foreign Minister Gen. Ahmad Vahidi. "The US spy drone is the Islamic Republic of Iran's possession and our country will decide what to do in this regard," he said.
Vahidi also criticized the US for the "bullying way" that it "called for return of the drone instead of offering apology to the Iranian and Afghan nations for misusing their lands."
President Obama confirmed yesterday that the White House had requested that Iran return the spy drone, reports the Associated Press. "We have asked for it back," he said during a Monday news conference with Iraqi Prime Minister Nouri Al-Maliki. "We'll see how the Iranians respond."
But even with Iran apparently intent on holding onto the drone, experts say that while there are reasons for concern, it is dubious that Iran will be able to glean the drone's secrets.
---