Liege attack: Gunman in Belgium targeted crowds with grenades, firearms
(Read article summary)
Liege attack in Belgium appears to have been carried out by a lone gunman using grenades and automatic weapons.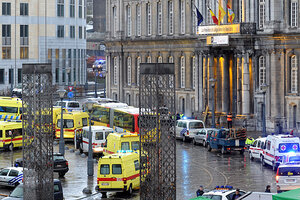 Ermindo Armino/AP
The industrial city of Liege, Belgium has a history of high crime. But an attack there today, in which a man threw grenades and shot into crowds of commuters and shoppers, killing four people and injuring more than 100, according to USA Today, has stunned a country unaccustomed to such mass violence.
A gunman threw grenades and shot into crowds of commuters and shoppers, trageting an area near the city's Christmas market, bus station, and main courthouse. The attacker is believed to be 33-year-old Nordine Amrani, who shot himself in the head after his rampage sent bystanders fleeing into nearby buildings, say witnesses who spoke with RTL.be. (French language.)
Mr. Amrani was reportedly released early from prison this year because his crimes – which included possession of drugs and firearms – did not comprise of violence. Amrani was supposed to be present for a police hearing this morning, according to The Guardian, but did not arrive for his appointment.
Amrani was originally sentenced in 2008 to three to just under five years in prison and fined €11,000, according to the Belgian paper Le Soir. The weapons in his possession at the time included an AK47 and a rocket launcher, reported Le Soir. Armani refused to comment on the origin and destination of these sophisticated weapons at the time of his conviction.
---