Israeli defense minister Ehud Barak calls for crackdown on 'Jewish terror'
(Read article summary)
Mr. Barak addressed an uptick in Jewish vigilantism. Today, Jewish extremists attacked a Jerusalem mosque, albeit one no longer used for prayers.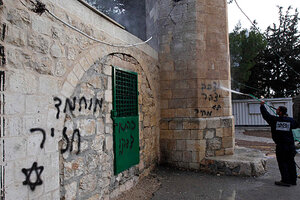 Ronen Zvulun/Reuters
Right-wing Jewish extremists vandalized and attempted to burn down an unused Jerusalem mosque today, the latest of a string of attacks by Jewish groups that have spurred public debate over whether such violence should be considered "terrorism."
Agence France-Presse reports that the vandals spray-painted graffiti insulting Islam and the Prophet Mohammed on the mosque, which has not been used for religious functions since 1948, and is currently used as a municipal storage facility. The graffiti also included the words "price tag," – referring to a policy The Christian Science Monitor has described as "using violence against Palestinians and Israeli security forces in retaliation for outpost evacuations and militant attacks on settlers."
The graffiti also included "Mitzpeh Yitzhar" and "Ramat Gilad," the names of two illegal settlement outposts in the West Bank that are set to be destroyed by the end of the month.
The mosque arson is just the latest in a string of attacks by Jewish right-wing extremists. On Monday night and early Tuesday morning, a group of what IDF Maj.-Gen. Avi Mizrahi called "Jewish rioters" attacked an Israeli military base in the West Bank, reports The Jerusalem Post. The attackers burned tires, vandalized military vehicles, and threw rocks at IDF personnel, apparently spurred by rumors that the military would soon be evacuating and leveling the Ramat Gilad settlement.
---