Syrian Army defector: We were given killing quotas by Assad regime
(Read article summary)
Two new human rights reports detail abuses by the Assad regime, but also show a growing use of violence by the opposition.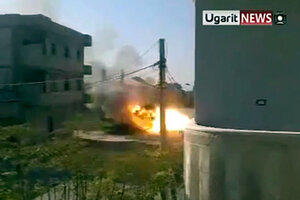 AP
The violence in Syria appears to be worsening, as Syrian troops renewed their attacks on protesters in the key opposition city of Homs and military defectors launched one of the largest attacks yet on government forces. And a new report provides evidence from defectors that Syrian forces are being ordered to use deadly force against unarmed civilian protesters.
The Syrian Observatory for Human Rights, a London-based watchdog with a network of contacts in Syria, says that Syrian forces opened fire on protesters, killing one, after traditional Friday prayers today in the city of Homs, writes the Associated Press. The group says that 200,000 people took to the streets in Homs to protest the regime of Syrian President Bashar Al-Assad. AP notes that it could not confirm the report, due to Syria's ban on foreign journalists.
But the opposition has also stepped up violence, as the number of military defectors increases. The New York Times reports that, according to the Observatory, defectors killed 27 Syrian troops around the city of Daraa, in an apparently coordinated assault on sites inside and outside the city. If true, the Thursday morning attack would be one of the largest and most sophisticated yet by the opposition against Syrian forces.
---