DC Comics' 'Second Wave' launches today with four new titles
The DC Comics superhero universe expands with the unveiling of alternate world Earth 2.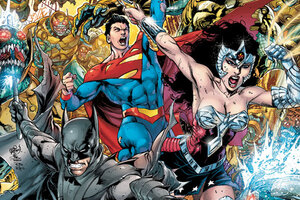 Last September DC Comics relaunched their entire line of superhero comics with 52 new books all renumbered/numbered to begin again at #1. This bold move received a ton of media coverage and high praise as they rolled back years of continuity to the new status quo – a world in which all their best-loved comic book heroes have now only been around for five years. This makes all the characters younger, with some still learning the do's and don't's of superheroing.
Now, with the dust just barely settled on this new landscape, DC is releasing a "Second Wave" of four new comics starting today.
The four "Second Wave" comics released today include:
Dial H in which writer China Mieville and artist Mateus Santolouco revamp the old series "Dial H for Hero." "Dial H for Hero" featured a mysterious dial (like an old telephone dial) that allowed an ordinary person to achieve superpower status for a short time, simply by dialing the letters H-E-R-O. But each time it was used, the magic dial transformed its user into a superhero with a different name, costume, and powers. This revamp places the magic dial in an old phone booth in an abandoned ally. When loser Nelse Jent tries to use the phone to call the police to help his friend, he is transformed into his first "hero." There are two transformations in this first issue and both are bizarre characters that reflect the darker tone of the comic. The art is moody, giving the setting – a town named Littleville – a bleak rundown appearance. It is a great setup with an interesting mystery – "What is that phone booth and where did it come from?" – peopled by dark, creepy characters including "Boy Chimney" and "Captain Lachrymose." So for fans who like their superheroes quirky, "Dial H"!
---