Rule and Ruin
When and why did the Republican Party tip so far to the right?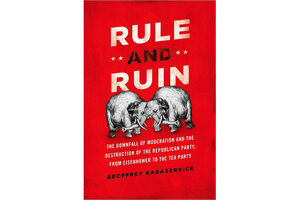 Radio personality Rush Limbaugh would have found himself marginalized in the 1950s Republican Party. Now he is the de facto leader of the GOP. Any politician hoping to rise in the party must appear on Limbaugh's show and pay respects to the great arsonist of the airwaves.
It was not always this way. As Geoffrey Kabaservice writes in his marvelous new book Rule and Ruin, moderates and liberals were once far more powerful in Republican ranks than were conservatives. "It is the only in the last decade or so that movement conservatism finally succeeded in silencing, co-opting, repelling, or expelling nearly every competing strain of Republicanism from the party, to the extent that the terms 'liberal Republican' or 'moderate' Republican' have practically become oxymorons," Kabaservice writes. Now, cooperating with Democrats and deviating from conservative orthodoxy is electoral suicide for a Republican leader. Witness the failure of former Utah Governor Jon Huntsman's presidential campaign or the many right-wing primary challenges to Maine Senator Olympia Snowe.
---