Carole King
Carole King's memoir is short on musical details, but long on the artist's personal saga.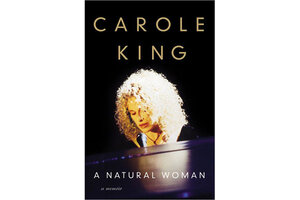 Often we expect too much from our movie stars, favorite athletes, and music idols. The moving performance, the memorable song, the astounding athletic feat need a logical explanation. We have to know exactly how it was done, how the magic was made. We feel there must be a trick, a secret recipe for success. So we buy their books to discover just how they do that voodoo they do so well.
The impossibly talented songwriter Carole King, whose list of hit songs could reach to the moon and back, is an artist we've wanted to demystify for decades. How could a nice girl from Brooklyn not only infiltrate the male bastion of Tin Pan Alley while still in high school, but go on to write so many hits that she became the most successful female songwriter of all time? Where did the mega-platinum "Tapestry" album come from, the record-holder for longest charting album ever for a female artist? And what inspired those deeply personal, yet universal, songs of female empowerment? Details, details, please!
King's memoir Carole King: A Natural Woman provides plenty of details about what the sub-title promises, but if you're hoping for a special backstage pass into her songwriting process, I'm afraid you'll be left waiting at the stage door. While there is a lot of personal material in the book's 450 pages, little is revealed about her art, the writing process that spawned so many memorable hits for herself and others: "Will You Love Me Tomorrow" for the Shirelles, "Up on the Roof" for the Drifters, "You Make Me Feel Like a Natural Woman" for Aretha Franklin, "Pleasant Valley Sunday" for the Monkees, "Go Away Little Girl" for Steve Lawrence and later Donny Osmond, "One Fine Day" for the Chiffons, "Take Good Care of My Baby" for Bobby Vee, and "You've Got a Friend" for James Taylor, among many others. And from her own classic "Tapestry" album: "I Feel the Earth Move," "It's Too Late," and "So Far Away" still populate classic rock and coffee house radio playlists 40 years after they were conceived and recorded.
---