Snow-Storm in August
In 'Snow-Storm,' author Jefferson Morley intensely captures the tension-filled 1830s and draws historical figures of the time in subtle shadings.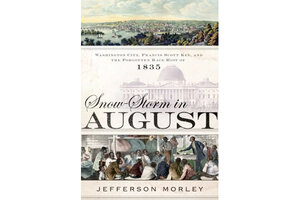 By Peter Lewis for The Barnes and Noble Review
Beverly Snow was a free man of color who owned and operated the Epicurean Eating House in Washington, D.C., in 1835. It was a class act – Would you like guava jelly with your plover, ortolans to complement your green turtle? – and Snow an artful, entertaining host. But Snow is also a foil for Jefferson Morley's other Washington in Snow-Storm in August: Washington City, Francis Scott Key, and the Forgotten Race Riot of 1835, a betwixt-and-between place with the South below and the North above. "High finance and human slavery were reconciled in the coordinates of the new capital city," and for every Beverly Snow, there were multiple black men and women "sold at a slave pen at Third Street and Pennsylvania Avenue, [or] taken in chains from the alley behind G Street."
The 1830s, at this remove, may themselves appear to be betwixt and between, quiet years with big conflicts receding in memory (independence and the War of 1812) or yet to come (the secession and bloodbath of the 1860s). In fact, they were a seriously tense time, especially for border areas like Washington, and this is what Morley so convincingly and intensely captures. Rebellions by the enslaved populations were breaking out -- General Nat's Southampton, Virginia, uprising had just been bloodily quashed, and the Mississippi slave revolt was in progress -- and these flares of violence set a polychromatic background against which the Washington riot plays out.
---