Harry Lipkin, Private Eye
Harry Lipkin is the genuine article – an 87-year-old gumshoe, sporting dentures.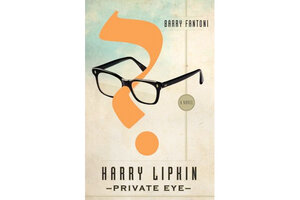 By Katherine A. Powers, for The Barnes and Noble Review
The arrival of Barry Fantoni's Harry Lipkin, Private Eye at my door caused me to reflect, as I so often do, on what used to be called mystery or detective novels. Once a variously populated genre, it has become a virtual phylum under which distinct, ever-proliferating classes, orders, and species continue to evolve. Two forms of relatively recent appearance are those with supernatural elements and those starring geriatric sleuths. Among the latter are Christopher Fowler's Peculiar Crimes Unit, Keith Thomson's Drummond Clark, and Henning Mankell's Kurt Wallander – though, to be sure, the inspector only achieved elderliness, and final dotage, in the course of his series, now kaput, thanks to his creator's apparent ill will. I suppose we could, retroactively, put Miss Marple in with these old boys, but I don't think she'd care for it; best leave the ancient maiden with the "cosies" – spelled thus out of respect for her unbending Englishness. But Harry Lipkin is the genuine article, his credentials impeccable: eighty-seven years old, prey to digestive complaints, sporting dentures.
Harry lives in Warmheart, a suburban development outside Miami that, among its other attractions, runs a free bus service for people over sixty. ("So that means everyone.") Still, Harry has wheels, a forty-year-old Chevy Impala with a Smith & Wesson snub-nose .38 in the glove box ("under the truss I used before I had my hernia fixed"). He gave up his office in central Miami and now works from home. That's where we find him when Mrs. Norma Weinberger, a rich widow in her mid-seventies, shows up asking for professional assistance in discovering which member of her staff is stealing from her.
---