The Wizarding World of Harry Potter: dispatches from a diehard fan
(Read article summary)
The Harry Potter theme park in Orlando, Fla., more than lived up to its hype for this fan.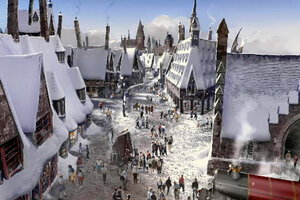 Universal Orlando Resort
I've read all the books. I've seen all the movies. (And yes, you might have seen me at a number of midnight showings.) I've also been known to spend time with equally fanatic friends debating whether butterbeer actually has alcohol in it and trying to remember the name of Ginny's Weasley's Pygmy Puff. (It's Arnold). So it's probably a given that I'd be predisposed to love the Wizarding World of Harry Potter theme park.
But guess what – I'm just back from a four-day trip to Orlando and I have to tell you that it's even better than I thought.
The Wizarding World of Harry Potter opened as part of the Islands of Adventure theme park located at Universal Studios Florida. First opening its Hogsmeade gates in 2010, it's been mostly well-received by travel writers and Potter fans alike. A California equivalent, located at Universal Studios Hollywood, is scheduled to open sometime between 2014 and 2016.
Similar parks in Spain and Japan are also rumored.
The park itself is created to look like the village of Hogsmeade, a small area located near Harry's school, Hogwarts, where magic students can go on the weekends to shop and socialize once they've reached their third year. Some of the most memorable scenes in the village take place during the winter, and this Florida version of Hogsmeade is built as if you stumbled upon it in January, with snow-covered roofs that glisten in the sunlight and smoke streaming from chimneys as if the building's inhabitants were huddled around a fire.
---