Embers of War
'Embers of War' is an essential read on the tragedy of the Vietnam War.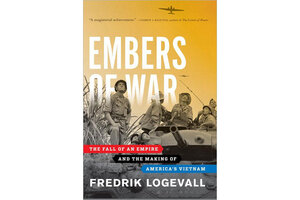 Question: who started the Vietnam War? Answer: the French.
Americans can be forgiven for remembering the war as a contest between the US and the Vietnamese, but in his new book, Embers of War, Fredrik Logevall vividly shows how incomplete such a recollection would be.
Logevall is an historian at Cornell University whose resume boasts several books on the Vietnam War. Here he shows how the French colonization of Southeast Asia that began in the late 19th century deeply influenced the Americans' failures in that region.
"Embers of War" begins its story with future Vietnamese leader Ho Chi Minh attending the post-World War I peace negotiations. Ho, as he was universally known, believed American president Woodrow Wilson was sincere in his declaration that all nations had the right to self-determination. It would be the first of Ho's many disappointments as American leaders failed to live up to their words.
Indeed, one of the many ironies Logevall highlights is that Ho was often more faithful to American ideals and pronouncements about national freedom than were US presidents, from Harry Truman to Richard Nixon. Having spent time in the United States in his 20s, Ho was a lifelong admirer of American principles and actions, from the country's 1770s revolt against the British to the distance that it kept from European imperialism in Asia.
---