Loverly
Any Broadway fan will find Dominic McHugh's story of the life and times of 'My Fair Lady' a fascinating read.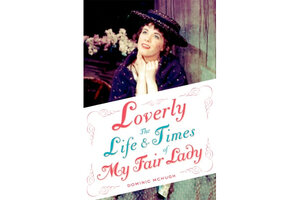 By Adam Kirsch, for The Barnes and Noble Review
On February 4, 1956, My Fair Lady was performed for the first time, at out-of-town tryouts in New Haven. Except it almost wasn't. Rex Harrison, starring as Professor Henry Higgins, was inexperienced as a singer – his lines in the show are a cross between speech and song – and the prospect of having to make his voice carry over a full orchestra spooked him. He refused to go on, and at six o'clock the theater sent out announcements over the radio that the performance would be canceled – fortuitously, there was a blizzard that night, which provided a good excuse. But the audience showed up regardless, and it was up to Harrison's agent to give him an ultimatum: "No matter what happened that evening on stage, he said, Rex damn well had to go on."
Finally he did, forty minutes late, and the result was Broadway history. From the very first night, Dominic McHugh writes in Loverly: The Life and Times of My Fair Lady, My Fair Lady was recognized as a smash in the making and a classic of the American musical theater. McHugh proves it by the numbers: "The original Broadway production ran for more than six years and 2,717 performances, and in doing so overtook Rodgers and Hammerstein's Oklahoma! to become the longest-running Broadway show to date." The cast album of My Fair Lady, featuring Harrison, Julie Andrews as Eliza Doolittle, and Cockney stalwart Stanley Holloway as Eliza's father, was the first LP to sell more than 2 million copies, then to sell more than 3 million. At the height of the Cold War, even the Russians wanted to see it: in 1960, it ran for fifty-six sold-out performances in the USSR.
---