'Fortress Israel' and 'The Generals'
Authors Patrick Tyler and Thomas E. Ricks examine Israeli and U.S. militarism through the country's commanders.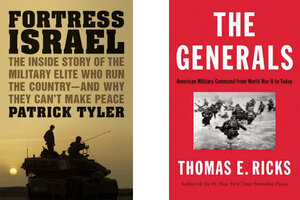 When Patrick Tyler started writing about the Middle East for The Washington Post and then The New York Times, he heard and saw the stereotypes about the Arab-Israeli conflicts. Hoping to understand the hostilities beyond the stereotypes, Tyler (author of "A World of Trouble") dug deep into Israeli society, until he understood something alarming: Israel has become a society so militarized, so under the sway of its generals, that nonviolent diplomacy has become a casualty.
How and why such a thoroughly military outlook became the norm is the subject of Tyler's new book, Fortress Israel, a telling phrase that sheds any ambiguity when combined with Tyler's subtitle, "The Inside Story of the Military Elite Who Run the Country – and Why They Can't Make Peace." The word "peace" is the final word of the subtitle, suggesting its relative priority in the nation itself – the lowest priority.
As of mid-2012, the primary concern of the Israeli militarists seems to be Iran, according to Tyler. The generals believe that Iran is developing a nuclear bomb and the Israeli military has successfully assassinated Iranian nuclear scientists within Iranian borders. Tyler talks with knowledgeable individuals within the Israeli military establishment who would prefer a less aggressive approach. But those individuals are not ascendant and never have been. Tyler presents a chronological account of the dozen prime ministers since Israel's "founding father" David Ben-Gurion who have established the country's warrior culture.
---