Building Stories
Chris Ware's unusual graphic novel is a triumph of imagination and originality.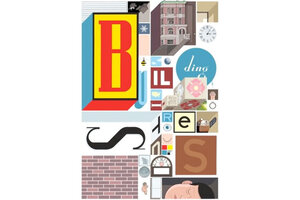 Chris Ware's Building Stories is a book only in the loosest sense of the word.
The graphic novelist's latest work comes in an oversized box and contains multiple "books," varying in size, shape and format. All are lavishly decorated and arranged in gorgeous story-boarded strips. Together, the collection of books, diagrams and newspapers tells a story of the unnamed inhabitants of a three-story apartment building in Chicago.
Ware, whose work has appeared in The New York Times and The New Yorker, offers us insight into the lives of each of the building's residents, but the narrative centers on a 20-something who occupies the third and top floor. The dour protagonist is an art school graduate, amputated from the left knee down after a water -skiing accident. She works at a nearby flower shop but spends most of her time alone with her cat, frustrated by her nonexistent love life and her art-school degree's irrelevance.
When the woman does eventually marry and settle down in Oak Park, Ill., she worries her way through suburban motherhood, regretting the paths not taken and compulsively combing the Internet for signs of apocalyptic doom.
It should be readily apparent by now that "Building Stories" is not a happy read. As was the case with Ware's previous book – 2000's enchanting "Jimmy Corrigan: The Smartest Kid on Earth" – the characters are lonely, even when they are not alone.
Most of the time, they keep up appearances, but the characters expose their dark interior lives. One memorable passage has the protagonist and her daughter dress shopping:
"Lately, I've been thinking a lot about the end of the world..." reads the text around the images of the two perusing princess-pink dresses. This sour admission – clearly the mother's interior monologue – juxtaposes the following, pedestrian line of dialogue from the cashier: "All right … your total today is $79.21."
---