When 'Spiritual But Not Religious' Is Not Enough
Lillian Daniel's study of what people who opt out of religion are missing is funny and refreshing.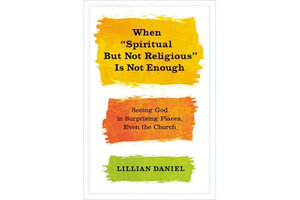 As growing numbers of Americans go through life without any religious affiliation, they're missing out on more than they know, according to author Lillian Daniel. Her funny and refreshing new book, When 'Spiritual But Not Religious' is Not Enough, aims to illustrate what they're missing.
Start with self-awareness. Those who think they're being original by going it alone, seeking God in solo strolls on the beach and allowing no room for accountability in spiritual life, receive a wry newsflash: "You are now comfortably in the norm for self-centered American culture."
"There is nothing challenging about having deep thoughts all by oneself," Daniel writes in a chapter that previously went viral on the Net as a blogpost. "What is interesting is doing this work in community, where other people might call you on stuff or, heaven forbid, disagree with you. Where life with God gets rich and provocative is when you dig deeply into a tradition that you did not invent all for yourself."
Shortcomings of do-it-yourself spirituality provide a jumping off point for this collection of 32 personal essays, but the book doesn't dwell there. Instead Daniel, a United Church of Christ pastor in the well-off Chicago suburb of Glen Ellyn, leads readers on an interpretive, conversational tour of church life from the inside.
She describes spiritual communities that are far from perfect, which makes them endearing and likeable. A congregation she once led in history-obsessed Connecticut made a big to-do about its anniversary celebration, only to discover it had the wrong year. The anniversary had been the prior year. Oops. Members, however, found a way to redeem the mistake by honoring a different church construction milestone from the preferred anniversary year. Problem solved. Sin forgiven.
---