The Rebellious Life of Mrs. Rosa Parks
A new scholarly biography examines the life Rosa Parks – the icon America embraced yet never really knew.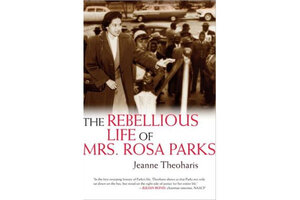 Already designated "definitive political biography" on its back cover, The Rebellious Life of Mrs. Rosa Parks by Brooklyn College political science professor Jeanne Theoharis will reside in my personal reading history as the most difficult book I've ever reviewed. Never before – and hopefully never again – have I faced such a vast divide between significant content and frustrating execution. As the most exhaustively researched biography thus far on Rosa Parks, Theoharis' new title is inarguably an essential addition to any library or classroom, and yet readers will need serious patience to sift through tedious repetition, fragmented chronology, and countless "might have/could have" assumptions to reach the final page.
Fable, myth, caricature are not words historically linked to Rosa Parks, who is publicly remembered as the quiet, tired seamstress whose refusal to give up her seat on a Montgomery, Ala., bus sparked the US civil rights movement. When she died at 92 in 2005, Parks became the first woman and second African American to have her body lie in state in the US Capitol Rotunda; 40,000 – including President and Mrs. George W. Bush – bore witness, with additional mourners paying tribute at overflowing memorials held in Montgomery, and Detroit, where Parks spent more than half of her life.
---