Vampires in the Lemon Grove
Karen Russell's short stories go where the wild things are.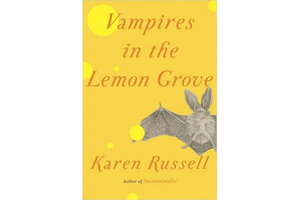 Reviewed by Stefan Beck for Barnes & Noble Review
Crazy ideas are necessary to the creative process. Even a titan like Nathaniel Hawthorne had them, filling his "American Notebooks" with often hilariously ill-conceived writing prompts: "All the dead that had ever been drowned in a certain lake to arise," he wrote, followed by an even less promising idea: "The history of a small lake from the first, till it was drained." There were also "[a] very fanciful person, when dead, to have his burial in a cloud" and "[s]ome moderns to build a fire on Ararat with the remnants of the ark." Not last but arguably least: "A person to catch fire-flies, and try to kindle his household fire with them. It would be symbolical of something." Never mind what. Invent first, ask questions later.
Much of Karen Russell's early fiction seemed to emanate from this firefly impulse, this urge to indulge flights of whimsy and then to invest them with meaning after the fact. She has been widely praised for her creativity, but many stories in her debut collection – a talking Minotaur pulls a covered wagon westward; a boy uses a Zamboni to attack his philandering father and a female Yeti mascot – were more grating than enchanting. Zany plots, goofy names, exclamation points, and forced pathos were on the wane in her novel "Swamplandia!," but they were still insistent enough to make a serious reader gasp when the book nearly took the 2012 Pulitzer.
---