Bend, Not Break
How a frightened, determined little girl made her way from political prisoner to CEO.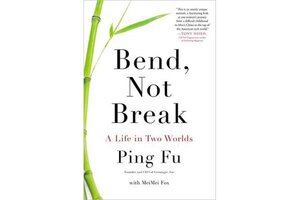 When Ping Fu was 8 years old she was ripped from a comfortably bourgeois Shanghai home and an adoring adoptive family and sent to the Maoist "reeducation" camp where she would spend the next decade of her life. There the book-loving "pearl in the hand" (as she was known to her family) was forced to eat dirt – and worse – by her peers. She witnessed brutal murders, and at times she nearly starved. At the age of 10 she was gang-raped and almost killed. Fu says she considered suicide but then realized that she was the only caregiver of her 6-year-old sister.
Yet Fu's memoir, Bend, Not Break, is not the stammering of a shattered adult. Instead, it is the inspiring and energetic tale of how a scared little girl learned to draw down hard on her inner resources and build on every small kindness that came her way. Fu eventually made it not only out of the camp but out of the country – all the way to New Mexico where she began learning English and also computer science, which would become her lifework.
Today, Fu is the chief executive officer of Geomagic, the US-based high-tech imaging company that she founded in 1997. Now, when she travels to China it's to oversee Geomagic's burgeoning market in that country. And when she sees her former enemies there it is to share a convivial meal.
Freud once famously called love and work "the cornerstones of our humanness." Although young Fu had never heard such a maxim, her life seems to have unintentionally borne it out.
It was love, Fu writes, that enabled her to survive the brutality of camp life. She leaned heavily on the memory of the unconditional affection she had known from her adoptive mother and the Taoist wisdom taught her by her adoptive father. Sometimes she would puzzle her way out of a bad situation by asking herself what her parents would have done in that same case. She helped to sustain herself by caring for her biological sister – several years her junior – who was imprisoned with her.
---