Not Less than Everything
A group of Catholic writers profile "religious realists" through history.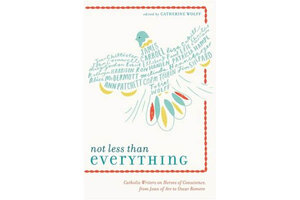 Dorothy Day disliked religious romantics. "I want a religious realist," she told "The Village Voice," "…one who prays to see things as they are and to do something about it." If there's one phrase to describe Day and the other 25 subjects profiled in this anthology, it's the phrase, "religious realist."
The book's editor, Catherine Wolff, could also be called a religious realist. She believed in the reforms set forth by the Second Vatican Council, especially the importance of the individual conscience. So when the hierarchy tried to limit the effects of Vatican II, she became frustrated and decided to compile an anthology which would focus on inner-directed figures, like herself.
Despite its somewhat unwieldy title, Not Less than Everything: Catholic Writers on Heroes of Conscience from Joan of Arc to Oscar Romero, the book is engaging. It gathers characters from New Testament times to the present. The collection is lively; the many fresh faces, voices, and styles keep it from being just another book with an axe to grind.
The people profiled here aren't necessarily Catholic. (Martin Luther, for example, left the Church and started the Protestant Reformation). Nor are they typical heroes. (Gerard Manley Hopkins acquiesced to his superiors and destroyed much of his poetry). Some, like Bartolomé de las Casas, Hildegard von Bingen, Michel Montaigne, and Mary Magdalene, are famous historical figures. But others, like Horace McKenna S.J. and Father Charles Strobel – both parish priests who spoke out against racism and spoke up for the homeless and downtrodden – are known only in the small circles of their influence.
---