The faith factor: Religion's new prominence in campaign 2012
Whose beliefs matter? From birth control to taxes, religion is playing an unprecedented role in campaign 2012.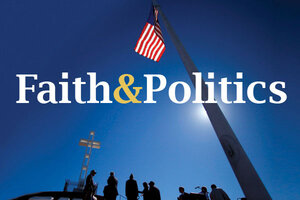 Mike Blake/REUTERS
God hit the campaign trail way back in the summer of this election cycle. Rick Perry asked His blessings on President Obama while Michele Bachmann wondered if earthquakes were His wake-up call and Jon Huntsman Jr. tweeted that evolution is "part of His plan." Ron Paul invoked Old Testament warnings against anointing a king. Newt Gingrich hit hard on repentance and forgiveness. And apparent front-runner Mitt Romney said it would take an "act of God" for feisty Rick Santorum to win the nomination. Mr. Santorum, for his part, accused Mr. Romney of believing he's ordained by God to win.
---