The Guns at Last Light
Is there really anything more to be said about World War II? The third volume of Rick Atkinson's 'Liberation Trilogy' proves that there is.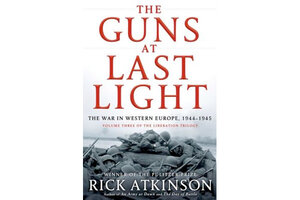 Journalist Rick Atkinson has spent the last 15 years writing the history of the American army in the European theater during World War II. The result is a three-volume series called "The Liberation Trilogy." In "An Army at Dawn," he described the invasion of North Africa and won a Pulitzer Prize. "The Day of Battle" focuses on the war in Sicily and Italy. With The Guns at Last Light, Atkinson brings the project to a close by analyzing the war in western Europe from D-Day to VE Day.
This is a well-ploughed field. A number of first-rate historians – Cornelius Ryan, Steven Ambrose, Martin Gilbert, Max Hastings, and Anthony Beevor all come to mind – have examined individual battles or the entire European campaign in detail. And, given all that has been written before, it's reasonable to ask whether an additional book can shed much new light on this topic. Atkinson's latest volume answers that question affirmatively and decisively.
The basic story is familiar: The complex and bloody invasion in Normandy and the difficulty of fighting through the hedgerows. Operation Dragoon and the invasion of southern France. The disastrous effort to capture a bridge over the Rhine at Arnhem. The brutal and bloody fighting in the Hurtgen Forest. The Battle of the Bulge. Jumping the Rhine at Remagen and, ultimately, Germany's swift collapse.
---