Italo Calvino: Letters, 1941-1985
This collection of Calvino's letters unveils the correspondence of a writer at the heart of modern literature's revolutions.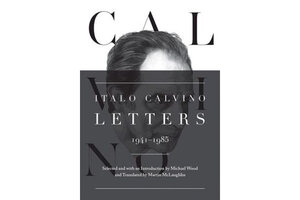 By Adam Kirsch for Barnes and Noble Review.
On any list of writers who should have won the Nobel Prize but didn't, Italo Calvino would have to figure near the top, along with Nabokov and Borges. Calvino, who was born in 1923 and died in 1985, became famous in America mainly as the author of ludid, postmodernist works like Invisible Cities – a reworking of Marco Polo's travels, with a buried mathematical structure – and If on a winter's night a traveler, a classic work of metafiction that continually stops and restarts itself while addressing the reader.
But in his comparatively short life, Calvino played many roles in the literature of Italy and the world. Before he was a postmodernist, associated with the experiments of the Oulipo in Paris, he was a realist whose first successes were Hemingwayesque tales drawn from his own experience as a partisan fighter in Italy during World War II. He was also, starting with his partisan period, a Communist, striving to reconcile his intensely individual genius with the imperatives of the class struggle. When that proved impossible, after the Soviet invasion of Hungary in 1956, Calvino resigned from the Party, but he always considered himself a man of the Left.
And from the very beginning of his career to the very end, he was also a publisher, associated with the leading Italian house of Einaudi. His work brought him into contact with just about every major Italian writer and cultural figure of the postwar period; many of them were his friends and collaborators, from Cesare Pavese and Carlo Levi to Michelangelo Antonioni and Pierpaolo Pasolini.
This intense activity, this committed and versatile service to letters, is the main impression that the reader takes away from Italo Calvino: Letters, 1941-1985. A big book at nearly 600 pages, it still represents just a fraction of the correspondence published in Italian, and there are large areas of Calvino's life that go uncovered – this is not one of those books of letters that can double as a biography.
---