For a Song and a Hundred Songs
Poet Liao Yiwu's account of four years spent in a Chinese prison is raw and disturbing yet also a deeply human and essential read.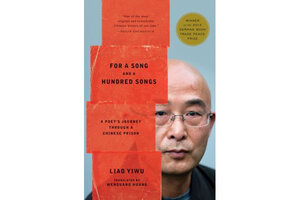 The Chinese equivalent of a beatnik, poet Liao Yiwu was known to drink hard, get into fights, and seek out adventures, staying up late into the night with his artist friends to contemplate life. And that's all he cared to do.
It was late spring of 1989. Many Chinese were obsessed with politics and growing frustrated with government corruption, but Liao avoided political discussions. Even when students began taking to the streets demanding democracy, Liao said he wasn't interested.
But something snapped inside him upon hearing the news well past midnight on a sleepless June 4, that government troops would crack down on the tens of thousands of student protesters who had for almost two months come to lodge their peaceful protest across China, including in Tiananmen Square.
As the reality of what was happening hit him, as hundreds if not thousands of students were killed, Liao picked up a tape recorder, pressed record, and spoke two words into it: "I protest." It was the moment that changed the trajectory of his life, he says. That night, Liao recorded a poem called "Massacre," which the Chinese government would build a case around, calling it "a counterrevolutionary activity." His poem would land him in prison for four years of torture, starvation, and brutality.
"For once in my life I decided to head down a heroic path," he writes. It was a path that he is quick to admit he "advanced with great fear, scampering at times like a rat with no place to hide."
Raw and unapologetic, Liao's memoir For a Song and a Hundred Songs chronicles his time in prison, providing a rare firsthand account of everything from the roles prisoners take on for each other (brutalizers, lovers, caretakers, performers) to the tender acts of some guards (at one point when Liao is handcuffed and has a runny nose, one guard takes the time to wipe his face for him with a clean cloth) to the way the Chinese system of governance is replicated within the prison.
---