The Sound of Things Falling
A young Colombian, drawn into the story of a murdered acquaintance, is forced to confront the history of the drug trade in his country.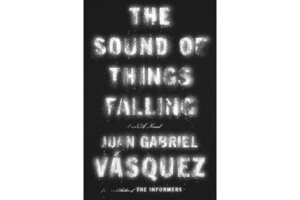 Homicides by the hundreds of thousands, millions of people and animals displaced or destroyed, massive economic and environmental devastation – these are among the effects of Colombia's devastating drug wars.
But what about the fear? Is there any way to measure a fear so overwhelming that it becomes a part of national culture?
That seems to be the question troubling Colombian novelist Juan Gabriel Vásquez in The Sound of Things Falling, Vásquez's latest novel, translated into English by Anne McLean.
The violence that Colombians experienced, Vásquez stresses, is not "the violence of cheap stabbings and stray bullets, the settling of accounts between low-grade dealers" but rather "the kind that transcends the small resentments and small revenges of little people, the violence whose actors are collectives and written with capital letters: the State, the Cartel, the Army, the Front."
This is a violence that brings terror, an emotion so intense and corrosive that it warps the lives of all the characters in this story-within-a-story. The novel's narrator, Antonio Yammara, a young law professor, witnessed the death of Ricardo Laverde, an older man – an ex-pilot and one-time drug trafficker – with whom he sometimes played billiards.
They were not particularly close. But through his murder (during which Antonio was severely injured), Ricardo becomes an obstacle to Antonio's future. Antonio must explore the reasons behind Ricardo's death.
Aura, Antonio's wife, is a generous and patient woman but, having lived outside of Colombia during the worst of the terror, she can't really understand Antonio's quest.
---