God Bless America
How did a World War I-era song, originally intended as the finale of a soldiers' musical revue, become America's 'shadow anthem'?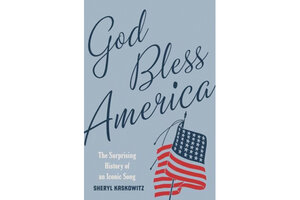 Reviewed by Adam Kirsch for The Barnes and Noble Review
America has always had a national anthem problem. "The Star Spangled Banner" commemorates a battle no one remembers in stilted and uncolloquial language ("o'er," "ramparts"); worst of all, it has an almost unsingable tune, with octave leaps that few non-professionals can handle gracefully. (Oddly, the tune originally belonged to a drinking song, "To Anacreon in Heaven" – perhaps drunk people were undaunted by its challenges.) No wonder, then, that so many patriotic songs serve as alternative anthems, threatening to replace "The Star Spangled Banner" in our affections. "America the Beautiful," "The Battle Hymn of the Republic," "My Country 'Tis of Thee" – all of them have their place in the repertoire. But in the last century – and especially in the decade since the September 11th attacks – no patriotic song has been as popular as "God Bless America."
The association of "God Bless America" with 9/11 was cemented on the evening of that day, when a group of members of Congress, giving a press conference on the Capitol steps, spontaneously began to sing it. In God Bless America: The Surprising History of an Iconic Song, Sheryl Kaskowitz does some detective work to try to figure out who started the singing and whether it was planned in advance. But even though a surprising number of politicians responded to her questionnaire on the subject, no one can say for sure how the singing began. "The original, spontaneous moment faded from memory," Kaskowitz writes, and what began as a touchingly authentic expression of solidarity became an annual ritual that smacks of politics.
---