Small Wars, Faraway Places
British historian Michael Burleigh explores the context behind long-simmering regional conflicts.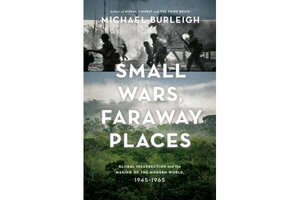 It is easy to be baffled by the regional conflicts that burn their way across the modern globe, from the seething civil war of Syria to the seemingly endless feuding of Afghanistan and Pakistan. Each zone of conflict is painted with question marks: What's the origin of Iran's vitriolic distrust of the West? Why does China still stand behind its erratic and murderous North Korean allies? What created the massive fault lines that gave rise to this year's jarring upheaval and violence in Egypt?

Most contemporary news accounts of these simmering (or raging) trouble spots lack context. In many ways, the new book Small Wars, Faraway Places is the vault of knowledge that followers of current events have been seeking. Written by British historian Michael Burleigh, "Small Wars" is less a clean, continuous narrative than a massive moving mountain of names, dates, places, and facts. In a tome that spans 608 pages, the author documents an assortment of post-World War II insurgencies and anti-colonial revolutions so profound and potent that any one of them could spawn (and certainly has spawned) a generous handful of popular and scholarly texts.

From the Mau-Mau Emergency in Kenya to the Korean War (pardon me, "police action") to the French misadventure in Indochina and the clash between Arab nationalism and Zionism in the British Mandate in Palestine, Burleigh traces 18 distinct story lines of terrorism, counter-terrorism, intrigue, nationalism, and Cold War rivalry.
---