The Hired Man
In Aminatta Forna's astonishing new novel, a survivor of the Yugoslav wars keeps watch over the small Croatian town he calls home.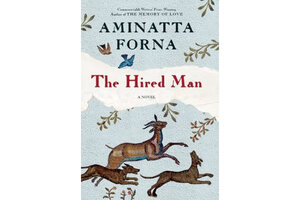 By Anna Mundow for The Barnes & Noble Review
Aminatta Forna is one of those rare writers who can create stillness and silence on the page: the silence of early morning, for example, filling a remote valley; the stillness of a man on a hillside watching the distant approach of a stranger's car. "An early sun had burned off most of the mist," Forna writes, "so I'd turned back to fetch my rifle even though it was not the season to hunt." Duro Kolak, the narrator of Forna's astonishing new novel, The Hired Man, holds the car in his rifle sights. Then he descends to the road and listens, unseen, outside an abandoned house. "They spoke in English.... I retreated softly...."
Duro lives in Gost, a small town in Croatia. The year is 2007 and he is 46 years old. He has survived the Yugoslav wars of the early 1990s, and his story will eventually return to that time. For now, however, Duro's attention is fixed on the Englishwoman who has bought a house that Duro knows intimately, and which he is soon hired to repair. "She'd greeted me in English," he notes of Laura, who arrives with a teenage son and daughter, "I wondered what kind of assurance she possessed to speak to a stranger in a foreign land in her own tongue and expect to be understood. Clearly she enjoyed the luck of the innocent." Later, when Duro suffers a sudden loss, Laura avoids his eye, "as though pain was a disease you could catch." Blithe, sentimental, and crass, she is one of Forna's finest creations.
---