Flappers
In brief and provocative biographies, Judith Mackrell explores the lives of six influential women of the Jazz Age.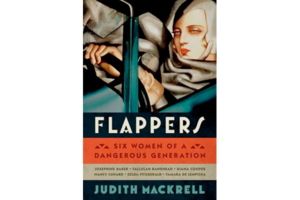 The Jazz Age is the backdrop for the six brief biographies Judith Mackrell orchestrates in Flappers, her suggestive social history of a type sometimes seen as shallow. But in the case of "Flappers," several of Mackrell's subjects are dead serious, like the cultural maven Lady Diana Cooper and the steamship heiress Nancy Cunard, a poetess intimate with such literary lights as Ezra Pound and the disdainful T.S. Eliot.
Other subjects are more frivolous, like the transgressive actress Tallulah Bankhead and the imperious, biographically revisionist art deco artist Tamara de Lempicka. Zelda Fitzgerald was above all damaged and Mackrell tells the sad, starry story of how difficult it was for her to walk the line between self-destructiveness and self-aggrandizement – especially given her marriage to a literary lion of a similar bent.
The entertainer Josephine Baker, who caps the book, is that rare Mackrell subject able to age graciously, self-awareness and militancy slowly accreting within her psychological portfolio.
The chapters Mackrell devotes to these emblematic women do multiply interesting duty. They're also mildly titillating. These women were sexually adventurous and their bite – especially Bankhead's – at least as sharp as their bark. Mackrell doesn't hold back on detail, marbling her inquiry with the right amount of dish. In giving piquant tastes of these fearless women through their affairs, Mackrell properly raises their profile, suggests how the issues they sparked still resonate, but also demonstrates how women of such buoyancy can fizzle out over time.
---