Reviews of 'The Overton Window' by Glenn Beck
(Read article summary)
Is there enough thrill to "The Overton Window"?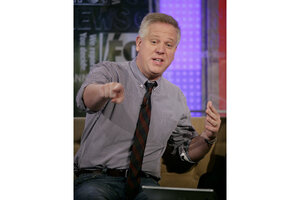 Richard Drew/AP
It's hardly the first time that conservative television talk-show host Glenn Beck has written a book. (Far from it: Beck is the author of at least five books, including last year's top selling "Glenn Beck's Common Sense"). But "The Overton Window" is his first attempt at a new genre: the thriller.
How does Beck succeed? Not too well, if you believe the book reviewers.
The book's plot centers on the conspiracy of a slick Manhattan PR type named Arthur Gardner to put an end to the American experiment in self-government. Gardner believes that through proper manipulation he can make Americans accept even the most radical ideas, and he has cooked up a plot to take over the nation. Battling against him are a brave and beautiful patriot named Molly, and Gardner's own son, Noah, who has fallen in love with Molly and come to see the world through her eyes.
According to some critics, however, "thriller" is a misnomer for this book.
The Washington Post, which reviewed the book under the headline "Glenn Beck's paranoid thriller," pegged the literary value of "The Overton Window" at "none," and says that the "suspense of 'The Overton Window' comes largely from wondering when the thrills will begin."
The headline on The Huffington Post's review of "The Overton Window" suggests that the book may be involved in "a conspiracy to bore you senseless." The Post's reviewer calls the book "a very creepy" fantasy, but adds that, "What 'The Overton Window' is not, despite the jacket's boasting, is 'a thriller.' "
---