Muslim leaders call for Salman Rushdie to be denied entry to India
(Read article summary)
Salman Rushdie, who plans to attend a literary festival in the country, says he's still coming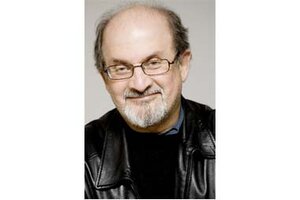 Beowulf Sheehan/PEN American Center
Salman Rushdie's plans to attend literary festival in India have prompted protests from members of the Muslim community.
Rushdie, a writer born in India, went into hiding for a decade after his book "The Satanic Verses," first published in 1988, triggered a fatwa ordered against him by Ayatollah Ruhollah Khomeini, then the religious leader of Iran. The fatwa urged Muslims to kill Rushdie and those who published his books.
The fatwa was lifted in 1998, but many still object to the author because of what some Muslims view as a blasphemous portrayal of the prophet Mohammed in his works. Some Islamic leaders are now demanding that the Indian government deny Rushdie entry to the country for the Jaipur literary festival, which takes place from Jan. 20 to 24.
"For the record, I don't need a visa," Rushdie said on Twitter.
Rushdie was still planning on coming to the festival, according to an article by the Guardian.
---