Johnny Ramone autobiography will be released this spring
(Read article summary)
Eight years after the legendary guitarist's death, Johnny Ramone's autobiography will be published with a foreword by former bandmate Tommy Ramone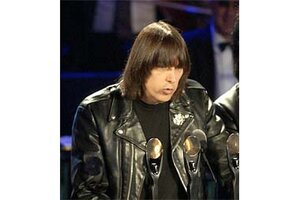 Kathy Willens/STF/AP
The autobiography of legendary punk guitarist and founding member of the Ramones Johnny Ramone will be released this April.
The book will be 176 pages long, according to the publisher, Abrams Images, and will have a foreword by former bandmate Tommy Ramone, who is currently the only member still alive of the original Ramones lineup. Lisa Marie Presley penned the epilogue for the book, and pictures were selected for inclusion by his widow Linda Ramone.
Linda Ramone told the Associated Press that her husband, who died in 2004 and was chosen by Rolling Stone Magazine as the sixteenth best guitarist of all time, began working on "Commando: The Autobiography of Johnny Ramone" after he was diagnosed with cancer. The book, Linda Ramone said, includes Ramone's thoughts on his entire life, beginning with his early days in Queens, New York.
"It was like he knew he was dying, and he wanted to do something," Linda Ramone said.
---