Apple announces iBooks2, a new textbook program for iPad
(Read article summary)
Apple's new textbooks for iPad will let students zoom and rotate images, watch movies, and even complete tasks like dissecting frogs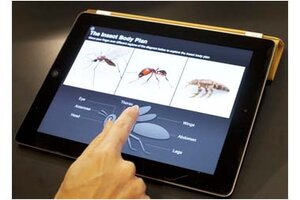 Mark Lennihan/STF/AP
Textbooks just got a whole lot cooler.
At its anticipated education event at the Guggenheim Museum in New York, Apple announced iBooks2, a digital textbook service for the iPad.
"I don't think there's ever been a textbook that made it this easy to be a good student," Apple's Roger Rosner said at the event.
At the very least, these digital textbooks would capture the attention of the most distracted students – and make the rest of us want to return to school. The textbooks demonstrated at the event were fully interactive, allowing students to zoom and rotate 3D images to more fully explore the structure of DNA, for instance, or a plant cell. The digital books might also be used to dissect digital frogs, conduct genetic experiments on plants, or explore elements on the periodic table. Students raised in the YouTube and Facebook era won't be disappointed: users of these digital textbooks can even view movies within textbook chapters.
Apple's Phil Schiller took the opportunity to take a jab at traditional, dead tree books. "They're not portable, not durable, not interactive, not searchable," he said at the press conference.
---