Barnes & Noble refuses to sell Amazon-published books
(Read article summary)
In the latest salvo in the war between the book giants, Barnes & Noble says it won't sell books published by Amazon in its stores.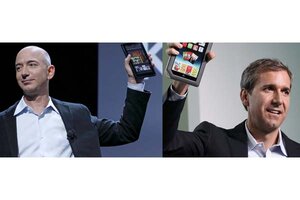 Shannon Stapleton/Reuters
If Amazon and Barnes & Noble are adversaries then this, proclaimed Bloomberg BusinessWeek writer Brad Stone, is a "declaration of war."
Barnes & Noble won't sell books from Amazon's new print publisher in its brick-and-mortar stores, in an attempt to cut off access for the online books behemoth that it says "undermined the industry" by signing exclusive agreements with publishers, agents, and authors.
"Barnes & Noble has made a decision not to stock Amazon published titles in our store showrooms," Barnes & Noble's chief merchandising officer, Jaime Carey, wrote in an email. "Our decision is based on Amazon's continued push for exclusivity with publishers, agents and the authors they represent."
"These exclusives have prohibited us from offering certain eBooks to our customers. Their actions have undermined the industry as a whole and have prevented millions of customers from having access to content," Carey continued.
"It's clear to us that Amazon has proven they would not be a good publishing partner to Barnes & Noble as they continue to pull content off the market for their own self interest."
The battle between the two rivals is heating up on the heels of several strategic developments by Amazon. The online retail giant has been steadily expanding its publishing business by bringing on veteran publishing executive and former agent Laurence Kirshbaum to head a new New York publishing imprint and by signing exclusive deals with bestselling authors like Ian McEwan, Ron Paul, Timothy Ferris, and Stephen Covey.
---