A victim turns the tables on con men
(Read article summary)
Author Amy Reading discusses her new book 'The Mark Inside,' which details the story of a Texas rancher who got his revenge on a gang of grifters.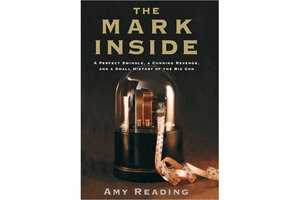 Back in the glory days of the Big Con, rich people who got swindled rarely made a stink.
They were humiliated and embarrassed. And they often worried that the law enforcement would go after them because many of the schemes were designed to rip off someone else.
But a rancher from Texas who lost a bundle in 1919 decided to tell the world about his epic hoodwinking by an expert gang of grifters. And then he did something else: He got them back in a sting that would have made Paul Newman and Robert Redford proud.
Amy Reading, a journalist based in Ithaca, N.Y., chronicles his story and more in the new book The Mark Inside: A Perfect Swindle, a Cunning Revenge, and a Small History of the Big Con.
I asked Reading about the history of the swindle in America, the inner workings of the Big Con, and the man who conned the con men.
Q: How did the term "confidence man" – shortened to "con man" – come about in the first place?

A: It's an American story.
There were definitely swindlers and con men before then. But the name comes from 1849 when a man with many aliases was walking the streets of New York. He'd go up to people and ask if he knew them. He'd be so charming and gracious that they'd believe they did know him.

He'd engage them in conversation, and then he'd say, "Do you have enough confidence in me to lend me your watch?"
---