Gwyneth Paltrow, Rachael Ray: 'We did not use ghostwriters'
(Read article summary)
Rachel Ray and Gwyneth Paltrow deny a New York Times story which reported that they relied on ghostwriters for their cookbooks.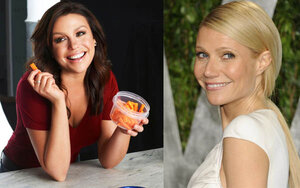 L: SC Johnson R: Evan Agonistini/FRE/AP
Say it ain't so!
The March 13 edition of the New York Times dining section included a fascinating story about cookbook ghostwriting, revealing to many foodies that celebrity chefs (and in some cases, plain old celebrities) – like Rachael Ray and Gwyneth Paltrow – don't actually write their own cookbooks. The story made waves among the reading public, inspiring crestfallen Facebook posts, suspicious second glances at beloved cookbooks, and misgivings about cookbook authors like Ray and Paltrow.
Well, both Ray and Paltrow say it ain't so.
"Many real-world cooks have wondered at the output of authors like Martha Stewart, Paula Deen and Jamie Oliver, who maintain cookbook production schedules that boggle the mind," wrote Julia Moskin in The New York Times. "Rachael Ray alone has published thousands of recipes in her cookbooks and magazines since 2005. How, you might ask, do they do it? The answer: they don't."
The article goes on to name Wes Martin as a sort-of ghost-cook and ghostwriter for Ray. "It's like an out-of body experience," Martin told the Times. "I know who I am as a chef, and I know who Rachael is, and those are two totally separate parts of my brain."
The day the story – and those damning passages – broke, Ray tweeted a message denying the Times's claims.
"3-Part tweet: Longtime fan of NY Times dining section, but today they got it wrong re: article on celebrating ghostwriters. My friend Wes (my longtime food stylist) does get me, but does not ghost me. Proud of Wes and proud to be the author of all my cookbooks. I remain a NY Times subscriber."
---