Adrienne Rich: a voice for the marginalized
(Read article summary)
Adrienne Rich shaped her verse and prose into a passionate cry for justice.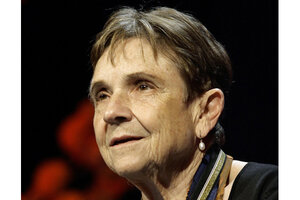 Stuart Ramson/AP
Adrienne Rich, a celebrated poet, feminist, and social activist who, through her thoughtful verse, challenged the American Dream and championed women's rights, gay rights, and rights of the disadvantaged, has died. She was 82.
Ms. Rich died Tuesday in her home in Santa Cruz, said her son Pablo Conrad.
Over the course of her decades-long career, over which she published more than a dozen volumes of poetry and five collections of nonfiction, Rich picked up a Pulitzer Prize, National Book Award, Ruth Lilly Poetry Prize, and Yale Young Poets prize for her passionate poetry that took up the causes of the marginalized.
As the precocious elder daughter of a Jewish father and Protestant mother – a heritage recalled in her autobiographical poem, "Sources" – Rich came of age in Baltimore during the turbulent social upheavals of the 1960s and 70s, an experience that heavily influenced her work. She was known for her unflinching attention to such controversial topics as racism, sexuality, war, economic justice, and homosexuality.
One of her most celebrated books of poetry, "Diving Into the Wreck," published in 1973, garnered Rich a National Book Award and launched her into the top echelon of American poets. With its layers of meaning about treasure hunting, failed relationship, and gender hierarchies, Rich's title poem was called "one of the most beautiful poems to come out of the women's movement," by literary scholar Cheryl Walker, in the Nation.
It began:
I put on
the body armor of black rubber
---