Is Amazon morally wrong but legally right?
(Read article summary)
Amazon's policies may be unkind to many in the book industry, but that doesn't make them illegal.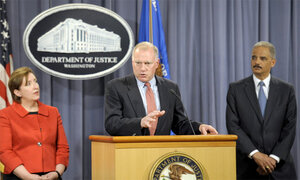 Cliff Owen/AP
Might Amazon, just this once, actually be in the right?
The publishing industry's favorite punching bag du jour has gotten a lot of flack lately over a Justice Department antitrust lawsuit against Apple. As we reported earlier this spring, the DOJ filed a lawsuit against Apple and five publishers, accusing them of colluding to fix e-book prices.
The DOJ has gotten an earful ever since. Book industry advocates have lambasted the government agency for going after struggling book publishers and Amazon's only real competition, thereby propping up the mega-bookseller's dominance.
"I feel absolutely befuddled by the lawsuit," New York Sen. Charles Schumer told the Wall Street Journal. "For the Antitrust Division to step in as the big protector of Amazon doesn't seem to make any sense from an antitrust point of view. Rarely have I seen a suit that so ill serves the interests of the consumer."
"The irony bites hard," Authors Guild President Scott Turow wrote in an open letter. "Our government may be on the verge of killing real competition in order to save the appearance of competition."
And David Carr of the New York Times criticized the antitrust suit as the modern equivalent of leaving Standard Oil intact and "breaking up Ed's Gas 'N' Groceries on Route 19 instead."
---