A smart female detective on the job in a grim New Orleans
(Read article summary)
Sara Gran, author of 'Claire DeWitt and the City of the Dead,' says discussing food or culture in New Orleans is ignoring the tragedy.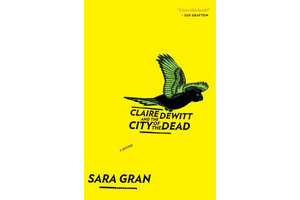 In New Orleans, they call it "the storm." Not just the hurricane named Katrina but the rolling disaster that lasted for days.
Author Sara Gran evacuated and returned. For two years, she watched the decline of one of the most vibrant and unique places on earth. And for two years, she watched the world ignore the real story of heartache and misery, much of it shoved deep into the minds of those whose city was lost.
Gran brings this grim, gritty, and unhappy New Orleans to life in her entrancing mystery novel "Claire DeWitt and the City of the Dead," which is now out in paperback. In the well-reviewed book, Gran manages to expose the darkness in the Big Easy while still finding signs of life amid the ruins. I reached Gran last week and we talked about her mystical private-eye character, the reality of post-Katrina New Orleans and the next book in the Claire DeWitt series.
Q: For people who haven't read the book, who's Claire DeWitt?
A: Claire DeWitt is in her mid-30s and from Brooklyn. She's "the world's greatest detective," but no one believes her. We'll find out if it's true as the series goes on.
She's been been through a lot, had a really hard childhood, and a lot of personal losses. She doesn't get a lot of pleasure in her life, but she does get pleasure out of solving crimes.
She's a devotee of a French detective who has an unusual school of detective work based on intuition, omens, and psychology. It is not science-based, more like the alternative medicine of detective work.
Q: She seems pretty messed up as she tries to solve the case of a missing prosecutor. Is that fair to say?
A: She's in one of those phases in her life where she's in between things. She's not really depressed, she's not really happy. She doesn't have a future she's particularly looking forward to, but she's not in her past. She didn't want to go to New Orleans, but goes there to help solve this crime.
---