The Big Read: National initiative returns for its seventh year
(Read article summary)
The National Endowment of the Arts will provide grants to communities for the read-a-thon program.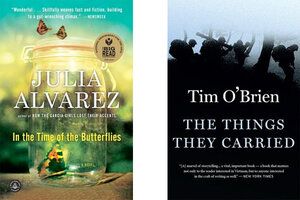 Now here's a government initiative we can get behind: the National Endowment of the Arts announced Tuesday its seventh annual nationwide read-a-thon program, The Big Read.
The Endowment is providing $1 million in grants to 78 communities across the country to host Big Read programs to encourage folks to read, share, and discuss literature. It's a kind of nationwide summer book club for communities across America.
"At the NEA we know that the arts can help to create strong, vibrant communities by bringing people together," NEA chairman Rocco Landesman said in a statement. "Through The Big Read, these 78 organizations are giving their communities the opportunity to share both great works of literature and memorable experiences."
Here's how it works. The NEA is providing 78 nonprofit institutions across the country, including arts councils, boys and girls clubs, libraries, public broadcasting stations, and universities, grants ranging from $2,500 to $20,000 to promote and host Big Read programs. Communities select one book from a group of 31 works of literature chosen by the NEA, including Julia Alvarez's "In the Time of the Butterflies," Ray Bradbury's "Fahrenheit 451," F. Scott Fitzgerald's "The Great Gatsby," Ernest J. Gaines' "A Lesson Before Dying," and Tim O'Brien's "The Things They Carried." Educational materials like author biographies, discussion questions, and CDs supplement each title.
---