'Bookless libraries' – has it really come to this?
(Read article summary)
A growing number of public and college libraries are deciding to remove paper-and-ink books from their shelves.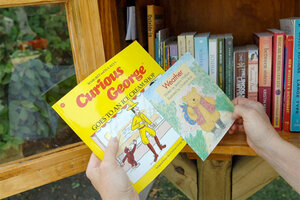 Lori Ann Cook-Neisler/The Pantagraph/AP
The paperless office, the currency-devoid bank, the jobless recovery. The latest in a string of euphemistically-named contradictions? The bookless library.
It began with the academic libraries. Kansas State University's engineering school went bookless 12 years ago. The University of Texas at San Antonio ditched print for e-books and e-journals in 2010. Stanford University's engineering school pruned 85 percent of its books last year. Drexel University opened a new library just last month with nary a bound volume – just rows and rows of computers. And Cornell recently announced a similar initiative.
For better or worse, the trend is now spreading to public libraries. Facing a budget crunch, the Balboa Branch library in Newport Beach, California, is mulling a plan to strip its original library of most of if not all its 35,000 books – and from the sounds of it, a few librarians, too. If patrons wanted a book, they could approach a voice-activated kiosk, speak to an off-site librarian to order books, then wait by the library's fireplace for the books to be dropped off in an on-site locker.
---