'Game of Thrones' and 'Hunger Games' inspire baby names
(Read article summary)
The baby name website Nameberry says names from fantasy novels 'Game of Thrones' and 'Hunger Games' are among the most popular this year.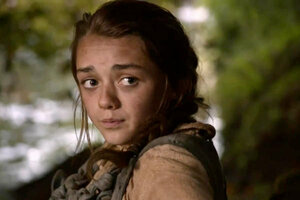 HBO
Sure, plenty of fans may have admired calm stylist Cinna from Suzanne Collins' "The Hunger Games" trilogy or spunky Arya from the "Game of Thrones" series by George R.R. Martin.
But enough to name their children after them?
The baby name website Nameberry is reporting that names from "Hunger Games" and "Game of Thrones" have experienced massive spikes in popularity so far in 2012, with the name Arya soaring over 800 percent in popularity and coming in at number one on Nameberry's list of most popular names.
Meanwhile, the name Cinna – along with Senna, a female version – are both up 1,500 percent from their rankings last year, according to Nameberry, and came in at number seven on the list.
The name Theon, the moniker of a male "Game of Thrones" character who struggles when he is torn between two families, has also had a surge, ranking at number eight on the list.
---