College textbooks: how to spend less this year
(Read article summary)
College students looking to save money on textbook costs now have a bevy of options, including a new rental program from Amazon.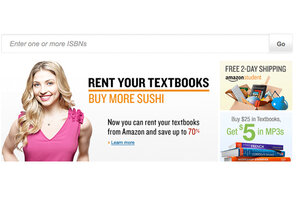 Heard the one about textbook prices? You don't need Accounting 101 to learn about bankruptcy. Just walk into a campus bookstore.
Textbook prices may be a joke, but for students entering college this fall, buying textbooks is no joking matter. The average American student spends between $700 and $1,000 per year on textbooks, according to a US Department of Education study. And that's after students – or, more likely, their parents – have dished up for tuition, room and board, meal plans, lab fees, extracurricular fees, and a laundry list of other expenses.
There's good news. Amazon is trying to take some of the sting out of textbook sticker shock with its new textbook rental program. Under Amazon's new program, students can rent textbooks for 130-day periods, about the length of a semester, then ship the textbooks back to Amazon at no cost. Amazon says its rental program offers up to 70 percent savings on textbooks compared with retail purchase prices.
---