New biography offers an inside look at Joe Paterno and family after his firing
(Read article summary)
Excerpts from 'Paterno,' by Joe Posnanski, show Paterno and his family reacting to the scandal after former assistant coach Jerry Sandusky was accused of sexually abusing young boys.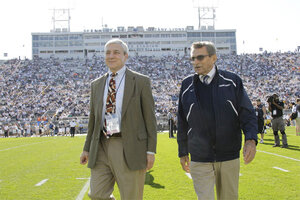 Gene J. Puskar/AP
The new biography "Paterno," centering on the life of disgraced Penn State coach Joe Paterno, details the former coach's reaction to being fired and how his family tried to handle the scandal, according to an excerpt which will be published in the September issue of GQ.
"Paterno" author Joe Posnanski had joined Paterno in the summer of 2011, planning to observe the coach – with Paterno's permission – through the upcoming football season for the biography. As a result, he was on the scene when the Sandusky scandal broke. The book will be released next week.
One part of the excerpt describes Paterno the day after he was fired from his position as head coach of the Nittany Lions. According to the biography, he "sobbed uncontrollably."
"My name," he said to his son, Jay, according to Posnanski. "I have spent my whole life trying to make that name mean something. And now it's gone."
The Paternos took on a public relations specialist, Dan McGinn, to help them with the fallout of the scandal, and, according to Posnanski, McGinn asked Guido D'Elia, the director of communications and branding for football for the school at the time, if they could contact anyone on the board of trustees for the school. But D'Elia said that the board had been less than friendly towards Paterno since 2004. Spanier and the school's athletic director, Tim Curley, had reportedly suggested Paterno step down that year, and Paterno refused.
"We don't have anybody on the board now," D'Elia told McGinn, according to Posnanski.
According to Posnanski, Paterno's son Scott, who had worked as a lawyer and unsuccessfully run as a candidate for a seat in the US Congress, was the first to realize the extent to which the scandal would damage his father's career.
---