Amazon's Sara Nelson shares her favorite fall books
(Read article summary)
Amazon's Sara Nelson says Sept. 2012 is offering both serious literary titles and also some strong 'commercial' picks.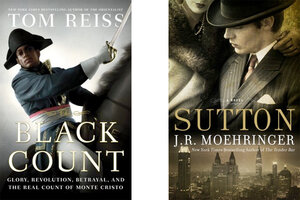 Readers are in for a literary treat this fall, says Sara Nelson, editorial director of books and Kindle for Amazon.com.
"September and October are always a bumper crop of books," says Nelson. "There's a lot of anticipated books from well-known writers like Zadie Smith and Junot Diaz, and it's also a time for debuts from new writers. [We've seen] serious literary titles but also strong 'commercial' picks."
Each month Amazon's editorial team meets to select its list of the 10 books it believes are the best of the month, a process Nelson describes as "a bunch of people in a room all screaming about what we liked and didn't like." When you have as many good books come out as in September, says Nelson, the argument is particularly passionate.
One book everyone was passionate about, she says, is "The Signal and The Noise: Why So Many Predictions Fail – But Some Don't," by Nate Silver, author of the New York Times's popular FiveThirtyEight blog.
"It's a book about science and forecasting everything from baseball, to weather to politics," says Nelson. "It's a brilliant book, surprisingly easy to read, and it makes science accessible… It stands out in a lot of ways."
Another standout was Christopher Hitchens' "Mortality," the late author's vivid account of his battle with esophageal cancer and the last months of his life.
"It's very intense," says Nelson, "you feel like you're right there with him…[He writes] with such wit and with great humanity…For a book about dying of cancer, it's surprisingly not depressing."
---