Amazon struggles to get its books onto the bestseller charts
(Read article summary)
Books published by Amazon like the Penny Marshall memoir 'My Mother Was Nuts' have not seen strong sales.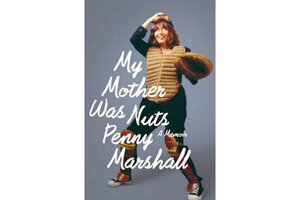 If Amazon is the Hercules of the book world, the leviathan who overshadows all, then publishing is its Achilles' heel.
Despite its almost mythical dominance in book retailing, Amazon has struggled mightily to crack the publishing business. While it sells millions of copies of other publishers' books, Amazon can't quite seem to get its own books off the ground and onto the bestseller charts, according to a recent Wall Street Journal piece that examined the online retailer's publishing woes.
Case in point: Penny Marshall's memoir, "My Mother Was Nuts." The memoir by the actress and director was published by Amazon and was slated to be one of its biggest titles for fall. "In its first four weeks of sale it has sold just 7,000 copies in hardcover, according to Nielsen BookScan," reports the Wall Street Journal. "By comparison, actor Rob Lowe's memoir, 2011's 'Stories I Only Tell My Friends,' published by Macmillan's Henry Holt & Co., sold 54,000 hardcover copies in its first four weeks."
Granted, there could be many reasons for the memoir's failure to sell. "Marshall hasn't been in the limelight for a while," writes the WSJ, and, of course, not every memoir strikes a chord. But there's one considerable culprit for the slow sales of "My Mother Was Nuts" and every other book Amazon publishes: "its severely limited availability."
---