'Don't Know Much About the American Presidents': Kenneth C. Davis reveals strange facts about America's leaders
(Read article summary)
George Washington breaking the law? The president with the most corrupt presidential administration in American history? Writer Kenneth C. Davis discusses surprising facts about our past leaders.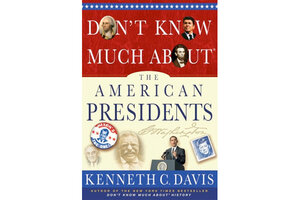 Did you know that Americans didn't start voting for president on the same day until 1845? Or that George Washington wasn't our nation's first president? Another Virginian, Peyton Randolph, a longtime member of the House of Burgesses, won an election as the first president of the Continental Congress in 1774, succeeded by a baker's dozen of leaders before the ascension of Washington to the presidency as we know it.
What about the presidential origins of the word "okay"? Thank Martin Van Buren, whose birthplace of Old Kinderhook, N.Y., in initials, made way for okay. Or OK, if you prefer.
Did you know that Jimmy Carter was our first president born in a hospital? Or that, 225 years ago during the debates that led to the creation of the commander-in-chief, the job "was being invented by men who didn't necessarily think that having a president was such a great idea?"
The latter quote comes from the pen of Kenneth C. Davis, a man known to millions of readers for posing endless questions and then answering them with detailed but snappy historical facts and anecdotes. This accidental historian, nudged by his wife into writing while working at a bookstore, burst on to bestseller lists in 1990 with "Don't Know Much About History," a pop history confection that spawned a series of similar titles on geography, the Bible, and the Civil War.
The latest entry, "Don't Know Much About the American Presidents," follows the popular formula Davis established throughout the series. He offers the basic cornerstones – biographies of each president, important legislation and decisions, controversies and scandals – along with all manner of Oval Office bric-a-brac, starting with origins of the Oval Office itself, which was built during the administration of William Howard Taft (who weighed 300 pounds and still ranks as the heaviest president in history), but never described as the Oval Office until the days of FDR.
Beyond history and historical oddities, Davis weaves in memorable quotes from the presidents and supplies extensive lists of essential reading and websites for those wanting to learn more about various presidents and aspects of the presidency.
---