Horror stories: What makes us like the frights?
(Read article summary)
From Hitchcock to Stephen King, many have offered opinions on why there's such a thing as a delicious scare.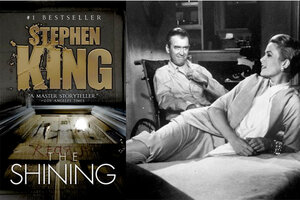 R: Paramount Pictures/AP
Stephen King may be right about the allure of horror movies – but how sick is that?

King opens his provocative 1981 essay, "Why We Crave Horror Movies," with the diagnosis that all of us are mentally ill. At the outset, he "clears" the millions of us "outside asylums," explaining that we avoid institutionalization by figuring out how to masquerade as sane. According to the modern master of the macabre, while we pass ourselves off as normal, we crave the abnormal and relish testing our respective capacities to be frightened, shocked, and repulsed. If I read him accurately, those who crave horror movies are consciously (even enthusiastically) "daring the nightmare."

I wonder if those who have seen carnage or actually suffered potentially grave (and I do mean grave) illness are as disposed to court cinematic shocks and nightmares? Are those who have witnessed atrocities or experienced uncontrived, unasked-for devastation inclined to be tested by on-screen ghouls and gore? Are such films targeting the young who have yet to be sufficiently unsettled, unnerved? Are fright films becoming more graphically horrific to captivate the unscathed, who are captives of shape-shifting images and "jump-cuts" and hand-held gaming mayhem? Do fright films succeed financially (even with double-digit admission prices) because many teens do not have the vocabulary, the patience and attention span, or the comprehension to read and savor a plot that develops over pages and pages?
---